Photo courtesy of Enrightography
Big Rory & Ochie The Dog
Big Rory and Ochie the Dog are no ordinary street theatre characters. They explode onto an audience. A giant Scotsman and his endearing giant dog. Visually enormous, their characters are huge too. People (and often dogs) fall in love with Ochie. They look adoringly into his eyes, they can't help cuddling him, but he's a rascal too, full of surprises. This is one of the best street theatre walkabouts in the world.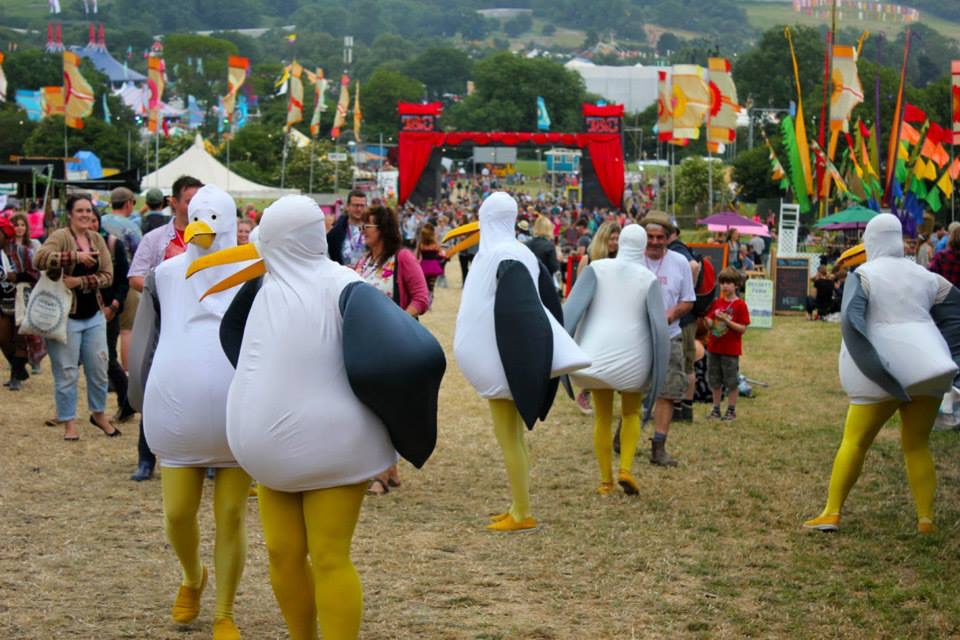 The Giant Seagulls
Totally surrealistic, with working beaks, they'll be rummaging in bags and pockets, stealing food from plates and picnic baskets, causing chaos as usual and squabbling amongst themselves. Shrieks of laughter follow them wherever they go. And now you can have a flock of four of them.
The Sniffer Dogs - BRAND NEW SHOW
The Sniffer Dogs are ideal for any festival. A pair of official hounds out and about in search of unusual smells. Surreal security they have people screaming with laughter. Hiarious! See new video at Woodford Folk Festival in VIDEO section.
Photos courtesy of Enrightography.
The Hell's Cockies
A pair of bogan bikie cockies (everything you've always loved) out on the ran dan. With rising sulphur crests, Hells Cockies leather jackets and rings in their beaks these iconic Aussie birds are deliciously cheeky!
The Big Boys
The Biggest Wee Pipe Band in The World. These two giant musicians will have you laughing and doing a jig all at the same time! Commissioned for the Glasgow Commonwealth Games, they have been going strong ever since. A fabulous addition to any event.
Available for Christmas dressed in red and white jackets and playing Christmas Carols!
The Urban Meerkats
A Pair of human sized Meerkats. Highly strung and totally paranoid, they are in constant search of the predators out to get them. Alert and twitching on street corners, popping up by bins and bushes. Checking constantly with the general public. Determined to find the dreaded predators before they find them.
THE CANTERBURY TAILS
Canterbury Tails are a pair of hybrid Horse Humans. Thoroughbred in both looks and nature, they will trotting and cantering through sites sizing up the racing potential and chatting about the odds with those they encounter at the races, or chumming it up with their fellow equines on the farm. Adaptable to any situation, these characters are beautifully eccentric.
Death Row Jethro
(Known to his pals as Peggy) Fierce looking 8' 6" high retired sea captain is a big softie really. With Polly, his psychic talking plastic parrot, he gently pokes fun at his audience. Wonderful warm character, wonderful costume, he's absolutely perfect for seaside venues and great with the Seagulls.
CHRISTMAS CHARACTERS
At last Surreal McCoy are doing Christmas! From the duo you can trust - A pair of carol singing Giant Cockatoos or a Giant nine foot Santa and his lead reindeer, High Maintenance Rudolph, the Red Nose Reindeer. You'll have your shoppers in stitches!